Prudhoe Bay to Montana
I will be finishing the final leg of the Continental Divide ride beginning in August of 2010 and will travel from Fairbanks AK to Prudhoe Bay then south through Canada to Montana.

The following map provides our approximate route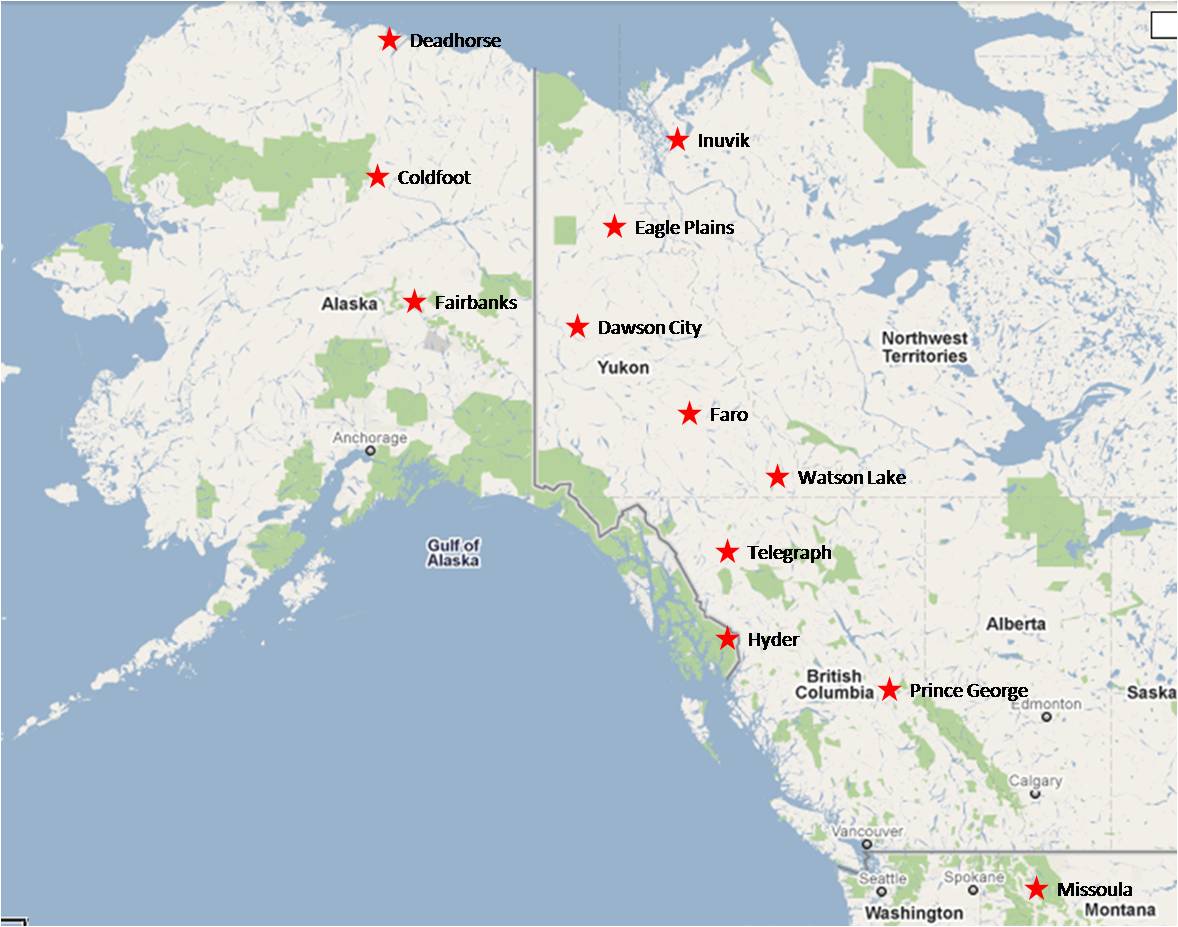 Spot GPS tracker link for current location
Day 1-2 - August 21-22
I arrived in Fairbanks, Alaska 12 hours after my departure from Cleveland.  I collected my bike from the Trails End BMW – it was ready to go with no damage from shipment.  More
---
Day 3-6 - August 23-26
Fairbanks to Coldfoot to Prudhoe Bay and back through Coldfoot to Fairbanks
Friedl, Mike and I departed Fairbanks on Monday, August 23 with bright shiny motorcycles and clean clothes.   We waited for the sun to begin to warm the surroundings and headed out at 9:00 a.m.  We ride approximately 60 miles before reaching the haul road (the Dalton Highway).
More
---
Day 7-9 - August 27-29
Friday the 27th was a down day.  The Taylor Highway path to the Top of the World Highway and Dawson City is closed.  A convoy will be permitted Sunday morning at 8:00 a.m. So we elected to take Friday off, and then proceed to Chicken AK via the Alaska Highway and part of the Taylor Highway. More
---
Day 10-11 - August 30-31
Monday, August 30
I head off by myself on a cold rainy day.  I'm afraid to take my good camera because of the rain, so these photos were taken with the pocket camera, which is waterproof. 
More
---
Day 12-14 - September 1-3
Klondike Highway to Campbell Highway to Watson Lake to Fort Nelson
I spent Tuesday night at the Klondike River Inn, a terrific place with a fast Internet connection, good food, and a high pressure washer to clean the mud from the Dempster Highway off my motorcycle and clothes.  It also had a nice mix of talkative locals and tourists.
More
---
Day 15-17 - September 4-6
Fort Nelson to Fort St. John to Kamloops
I departed Fort Nelson on Saturday morning, again in the rain:
More
---
Day 18-22 - September 7-11
Kamloops, BC to Missoula, MT
I spent Tuesday, September 7 in Kamloops, BC connecting with the office, working on some e-mails and repairing my motorcycle.  A fall on the Dempster Highway had loosened some of the fasteners on the front of the bike and I needed some special metric bolts to put it back together.  There is a specialty hardware store in Kamloops that had what I needed.  The motorcycle has also developed a small oil leak in a tube leading into the oil heat exchanger.  I believe this has been worn down by debris coming from the front tire.  I've patched it well enough to complete the rest of the trip – but it will need to be replaced when I get home.
More
---