Prudhoe Bay
Day 15-17 - September 4-6
Fort Nelson to Fort St. John to Kamloops
I departed Fort Nelson on Saturday morning, again in the rain:
I traveled through thick forests – less than 10% of British Columbia's land can be used for grazing or cultivation – ¾ of it is covered with forests.  British Columbia's evergreens make up half of Canada's timbering, pulp and paper production.  Recently tree harvesting has dropped considerably – not so much in the north as in the south – due to the ravages of the pine beetle, which is basically in the process of eating the coniferous forests in Canada.  Another problem for the industry has been the drop off in housing and the general slowdown in industrial output.
The roads are in great shape:


. . . with wide berms before the tree line allowing you to go fast without having to worry about a crazy animal darting out of the woods (more about that later).  Nice vistas with twists and turns:


But still raining . . .



Entering Fort St. John I came upon a police car – the first I had seen in British Columbia.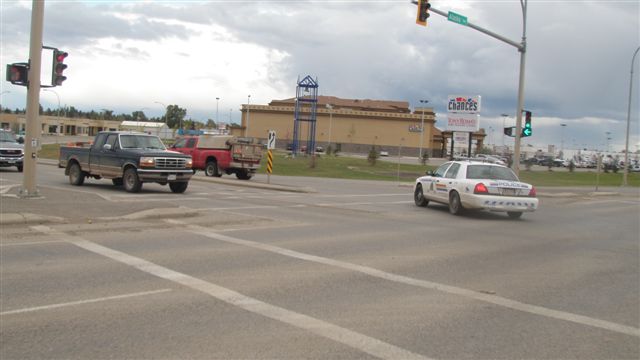 I stopped at a coffee shop and found the town to be fascinating and cancelled going on to Dawson Creek that night.  Dawson Creek is largely a farming town, but Fort St. John is a booming oil and gas town.  In their brochure they list some of the areas statistics – among them:
Median household income, $71,000
2008 average home price, $300,000
Average January temperature,  -14°C
Median age, 31
That night I went to a cowboy bar and I may as well have been in Cheyenne.  Amusing dress, tractor seats at the bar and classic two-step dancing were all quite amusing.
Sunday morning I bypassed Dawson Creek and headed along the Peace River and beautiful mountain lakes:


. . . harnessed to dams with power line taking the electricity (or as Canadians call it, Hydro) south:



It rained again on Sunday, but not the entire day; it was however cloudy, overcast and cold in the mountains.  At high altitudes I again see scraggly trees.  In spite of the pine beetle there are large sawmills:


With lots of inventory:


There are exotic log home builders: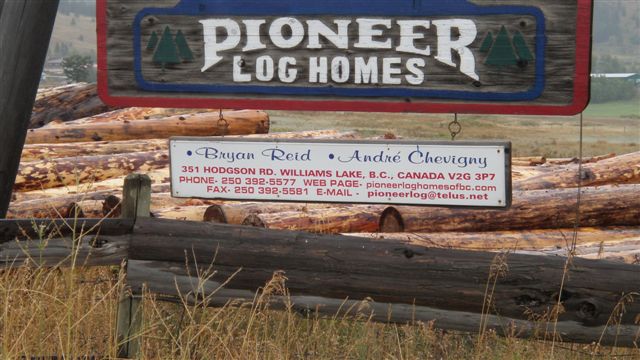 Here is a particularly artistic approach where they use the bottom of the log at the roots: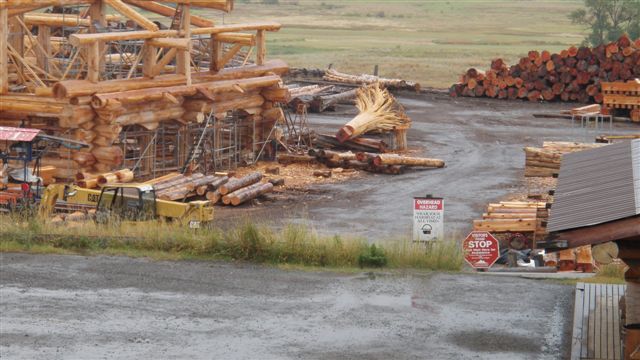 They build the structures here, disassemble them and ship them to their destinations.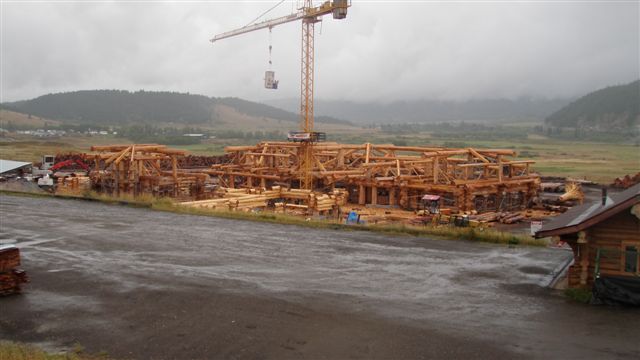 On the lee side of the mountain the properties are being irrigated despite the numerous days of rain: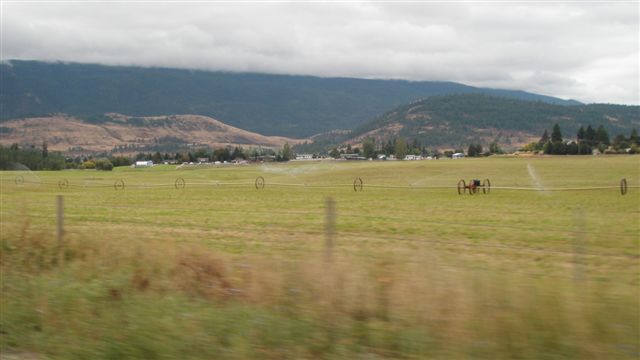 And the rain continues:

The road runs through beautiful vistas of valleys and mountains.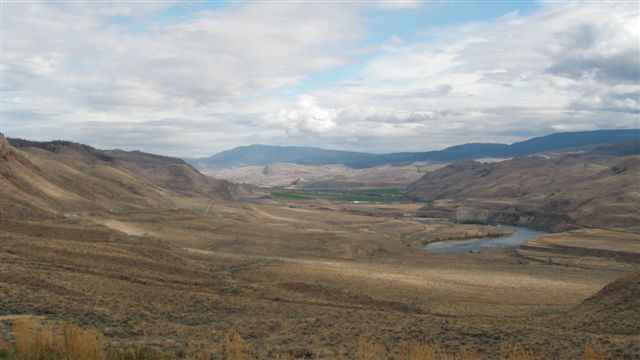 I stop for the evening in Prince George and will continue to Kamloops tomorrow.
On Monday I ride the remaining 330 miles to the vibrant city of Kamloops - - again in the rain - - and decide to take Tuesday off to catch up on some e-mails and dry my things.
Back to Top