Day 10-11 - August 30-31
Monday, August 30
I head off by myself on a cold rainy day.  I'm afraid to take my good camera because of the rain, so these photos were taken with the pocket camera, which is waterproof. 
I come across a couple at a coffee shop who rides with their dog: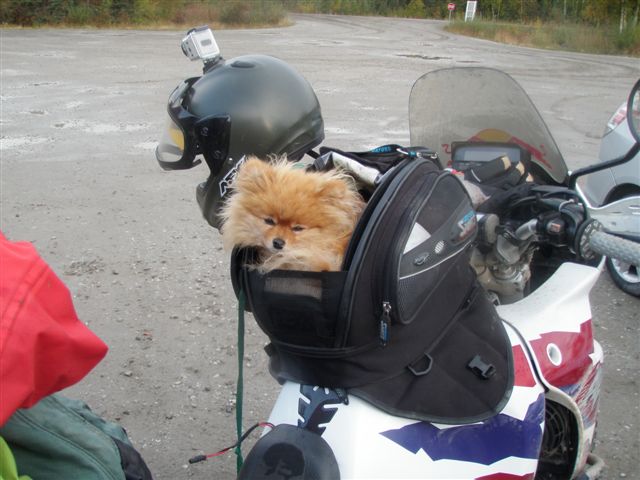 The dog waits outside while they eat – they tell me he thoroughly enjoys the trip.
The Dempster Highway runs all the way to Inuvik through several Inuit communities.  The highway is largely a dirt road with mostly non-commercial traffic.  It is much less traveled and not nearly in as good of condition as the Dalton Highway, but the view is better:



The rivers in the area are high: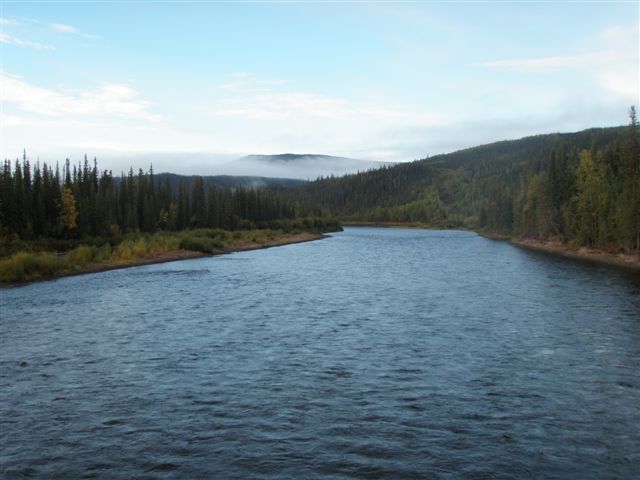 The road starts off in fairly good condition, but then deteriorates into a gnarly, rutted, muddy, washboard:

The worse part of the road is the combination of mud and the calcium chloride placed on the road for dust control – when wet it turns into an ice rink.
Truckers prefer the roads in the winter because the chuck holes fill in with ice, and the particularly bad stretches of road are sprayed with water to provide a very smooth driving surface. 

During the summer, the Dempster ends at Inuvik, where the rest of my group will make their turnaround.  During the winter, they ice the road all the way to Tuktoyaktuk, which is at the mouth of the McKinsey River Delta on the Arctic Ocean; the road is only passable at that time of year. The TV show Ice Road Truckers on the History Channel features this road in winter.
The weather improves dramatically during the morning, and it turns into quite a beautiful day. 

I have brunch at the EaglePicher camp and pass through hilly, rocky terrain before reaching the Arctic Circle.

I come across a young Swiss woman peddling her way north and camping along the way by herself.  She rides her bike five months per year traveling to different locations throughout the world.

As was true on the Dalton Highway, the trees are generally tall and spindly with tundra bushes covering the most exposed landscape.  Deciduous trees are found in protected areas with water, and conifers are found in protected areas with less water. 

Most of this area seems to be above what we would call the "timberline." 
Approaching the Arctic Circle, the terrain flattens out: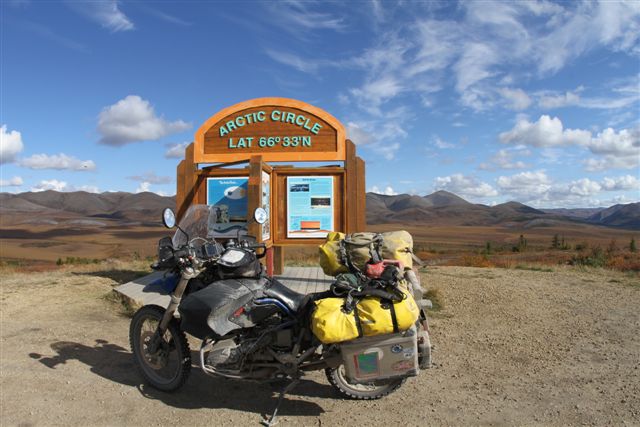 An unusual site for a Canadian park — I wonder what happened here: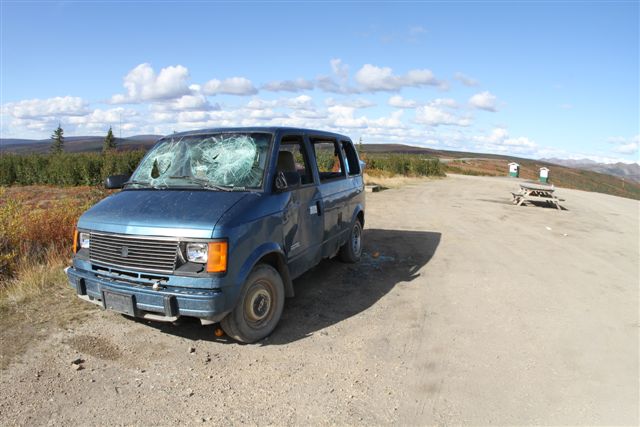 This sign is symbolic of this trip for me:

I am now north of the Yukon in the Canadian Northwest Territories:

I cross the Peel River on my way to my destination at Fort McPherson, an area that is nearly all tribal.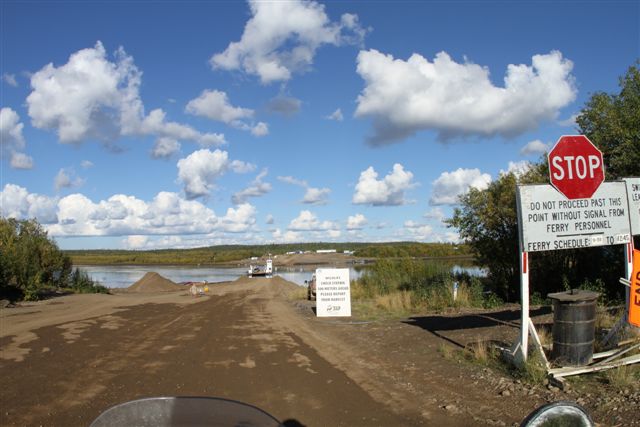 In Fort McPherson, I only see one manufacturing establishment, one construction company and a few gift shops.  There are a number of cooperatives that look to be entirely government subsidized.  There appears to be more interest in "feeding them fish" than in "teaching them how to fish." 
In town, I am quoted a hotel room for the price of $300/night.  I ask the attending young lady if she is joking – she replies she is serious and that the rooms are largely used by government people (yet another subsidy).
I camp out in a pleasant but nearly deserted area and have a bear-proof dinner: I cook stew in a can in a double boiler, eat out of the can, carefully dispose of the can, and clean the spoon.  This fastidious process naturally brings to mind the one about the bear and the tennis shoes:
Steve and Mark are camping when a bear suddenly comes out and growls. 
Steve starts putting on his tennis shoes.
Mark says, "What are you doing? You can't outrun a bear!"
Steve says, "I don't have to outrun the bear—I just have to outrun you!
Which is to say: it's not important that everything in my campsite is spotless, it's only important that my campsite is less attractive than my neighbor's. 
I discover that I haven't sufficiently prepared for the cold after a long night of not much sleep.  In the morning I treat myself to a spectacular breakfast: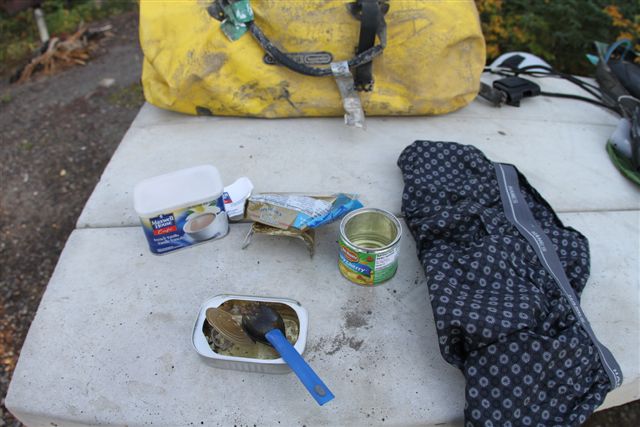 My elaborate spread
Instead of coffee, which is addictive and rattles your nerves, I have Nescafe French Vanilla (coffee without caffeine). 
Instead of eggs & bacon, which raise your cholesterol, increase your waistline and eventually make you dull and sluggish, I have sardines in cholesterol-busting omega 3 oil. 
Instead of fresh fruit, which is probably infused with all sorts of nasty intestinal diseases, I have nearly-fresh fruit, pasteurized in the canning process. 
Instead of fresh white linens as at home, I have Hanes brand boxers (of which I have a large supply because of the salmon burger incident).  They're more absorbent than linen, they can be used again and again without washing (thus contributing fewer phosphates to the ecosystem), they don't just sit and rot in your closet like your linens do when not in use, and, as an added bonus, you can wear them.  Try it for yourself! Your friends will view you as a true conservationist – just as though you lived in a yurt or had a wind turbine in your front yard.
A neighbor in my campsite rushed over as I was preparing to leave and explained that his car wouldn't start.  We managed to get it fixed with a couple of motorcycle tools and got him on his way.


He's a retired optometrist, a glider pilot, and an avid motorcyclist – he and his wife live in Holland and travel a good part of the year. 
The problem with getting a late start in the morning is that it warms up enough for the mosquitoes to be a nuisance.  The abundance of water in the area makes it very attractive for mosquitoes, but this device really works: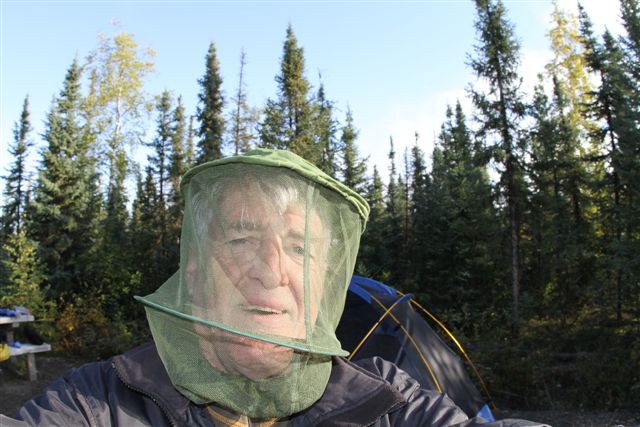 In order to reproduce, the female mosquito needs to obtain several times her body weight in blood – no blood, no eggs, no reproduction.   As the mosquitoes emerge in late June and early July, the caribou gather into enormous post-calving aggregations along the Beaufort Sea, sometimes numbering in the tens of thousands. The caribou seek areas where breezes and cooler temperatures reduce the harassment by mosquitoes, and when there is no wind, the caribou move continually. Cold winds offer relief from the mosquitoes and permit the caribou to rest and feed freely.  
The balance of my day Tuesday was spent backtracking my steps from yesterday. Along the way, I ran into the rest of my group heading north.  


They are a great group, and I wish I had more time to travel with them.
I get a nice room for the evening at the Klondike River Inn at the junction of the Dempster Highway and the Klondike Highway.  It's a fantastic place – they stored my spare street tires while I rode the Dempster.  It's a homey place with an interesting batch of locals (but more about that tomorrow).



I take this opportunity to spray wash my bike, which as you can see is much needed.
I am trying to figure out whether to now head straight south to Whitehorse, where I'm sure I could get my tires changed from knobby to street at the Honda dealer; or if I should take the Campbell Highway, a dirt road from Carmacks to Watson Lake and change the tires myself.
That's all for now.


Back to Top