Day 7-9 - August 27-29
Friday the 27th was a down day.  The Taylor Highway path to the Top of the World Highway and Dawson City is closed.  A convoy will be permitted Sunday morning at 8:00 a.m. So we elected to take Friday off, and then proceed to Chicken AK via the Alaska Highway and part of the Taylor Highway.

Breakfast with the gang
Friday was spent sightseeing, buying stuff for the motorcycles and more clothes (a heavy sweater and better pair of wool socks).  Of course, it never hurts to look at other items that would be called "wants" and not "needs" - -


I struggle with a fixation on bears
Saturday morning Palomo, my motorcycle, is ready to go – but it is cold, wet and raining, and it does not get any better.  There is rain running down the inside of my visor making things even foggier.  We ride alongside fast running rivers that have enormous flats on either side: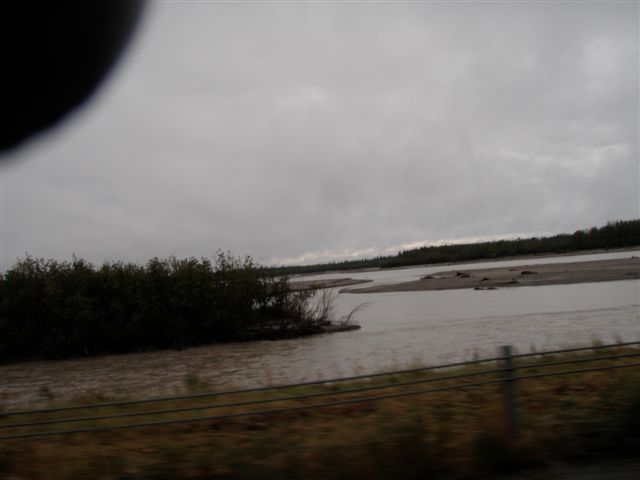 - Spring thaws must be extraordinary!
We see the Alaska pipeline on its way to Valdez with a crossing on its own suspension bridge. 

It is caribou season and everyone has four wheelers - simple ones like these two: 

- and ingeniously complicated ones like this: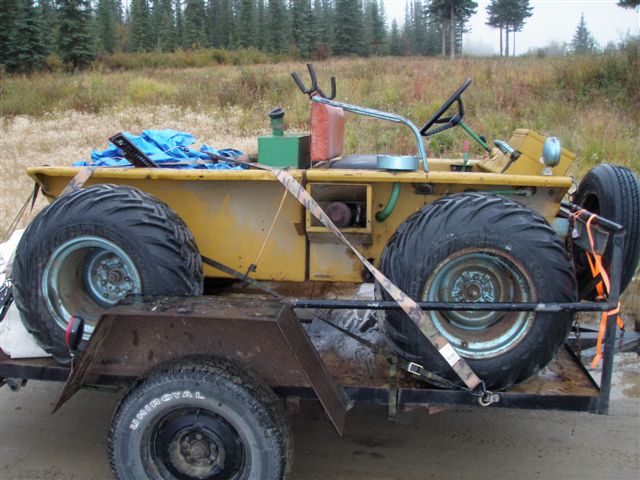 Along the way we saw armies of hunters camping by the road – all with their four wheelers.

We arrive at Chicken, Alaska and stop at a local gift shop: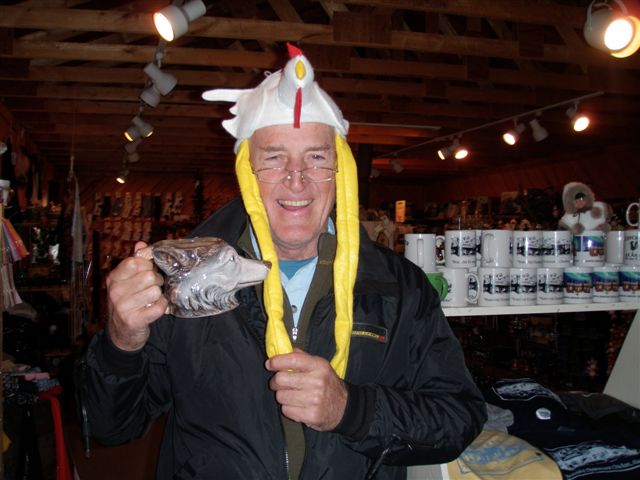 - where this wolf is about to attack an unwary chicken!
Most people are camping here, but we Easterners decide to stay at the fanciest place in town.  The lodging cost half as much as in Deadhorse and Coldfoot, but we did have to make some compromises: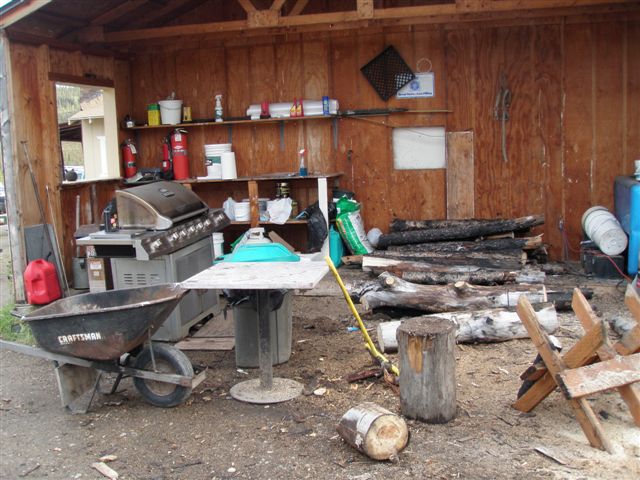 Including chopping your own wood in this self sufficient kitchen - - and the bathrooms were a bit chilly:

There is a significant mining history at Chicken that lives on with these tourists panning for gold. 

It costs $15/day; the water was cold; and they got just tiny little specks of gold out of it.  The gold rush crowd seemed to share the same instincts that are apparent daily in Las Vegas.  This was one of the centers of the Alaska Gold Rush activity.  Along the road you could see little scars on the side of the mountain where paths used to be, undoubtedly carrying prospectors with great hopes and energy fueled by the thought of instant riches, only to come out years later penniless and disappointed. 
Here is a large land locked dredge that would move up and down the river dredging up large amounts of the river bottom, running it through a processing machine, and dumping it back in the river. 

We saw a large number of relic machines – for example, this steam engine:

- and this forge furnace: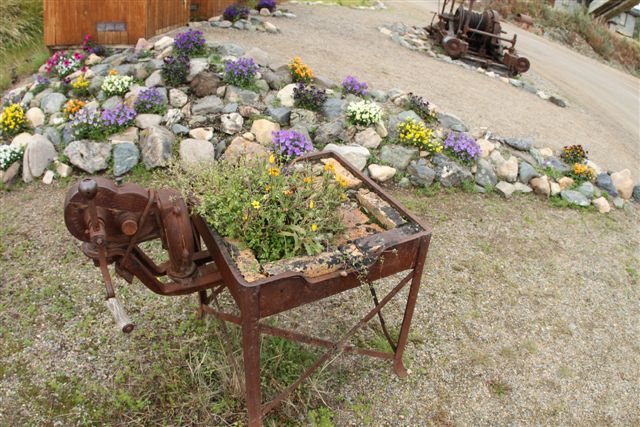 All of these machines were made in the Midwest, and apparently somehow shipped up to Alaska.  There is also a photo of a moose as a draft animal. 


This moose was raised by humans and worked well as a draft animal except during the rutting season when he would leave for two weeks and come back later.
When we arrived at Chicken I washed my clothes just like I do at home - with an ancient Maytag washing machine. 


I would guess it has not seen a serviceman in 50 years (adding to their loneliness).
We got up early on Sunday in anticipation of hooking up with the 8:00 a.m. convoy -  looks like hundreds of cars will join in:


They are mostly hunters wanting to get up into caribou country. 
Through the guile of Joe and Jim, we manage to get first in a line of approximately one mile of pickup trucks and cars, but only one motorcyclist other than us - J.D. Smith from Scottsdale AZ.  He is driving all the way to Inuvik in the Northwest Territory – a trip that we are planning to take in three days.  We follow the pilot vehicle: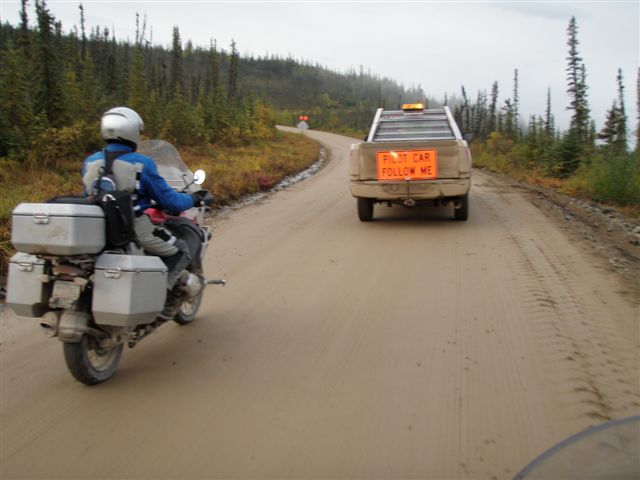 - for several hours as slow as 10 MPH inching through some beautiful country.

There was no out-processing from the United States and the processing into Canada was perfunctory at best; with perhaps 70 people arriving in one batch and one clerk to process all of them.  They did not swipe passports – they wanted to know if you were a criminal and had a firearm. 
There was a light drizzle most of the day and in the mountains there was heavy dew and at some points, limited visibility.
We arrived at Dawson City at the confluence of the Yukon and the Klondike Rivers and took a ferry across.


There was not a ferry dock – instead, they ran the ferry up on the bank of the river, dropped the ramp and pulled away within minutes.  The ferry ride was free. 
Dawson City is a beautiful old mining town that reminds me of the architecture of Aspen CO.  Dawson has an active visitors' bureau with a large number of tourists, mainly from Canada.  Although it is being promoted heavily, I am told that very few tourists take the Dempster Highway. 
Friedl cooked a phenomenal spaghetti dinner Sunday evening and then we went to the cabaret and watched Michael hit on one of the highly acclaimed dancing girls: 

We decided that tomorrow, in order to allow time for a visit to Glacier Park again and hopefully to see the Selkirk and Monachee Mountains where I have skied in the past, we need to make up some of the days that we have lost due to the road closing.  My plan is to go on ahead and get as far into the Yukon as possible, but probably not all the way to Inuvik.  Instead of spending four days on this segment of the trip, I have decided to spend two days on the Dempster Highway or possibly three only if I adore it.  Subtracting a day to change tires and a rest day, that will give me nine days to cover a little more than 3,000 miles, with portions on dirt roads.
Back to Top