Cape Town to Cairo 2012
Here is the approximate route I will be following up the great continent of Africa.
SPOT GPS Tracker link:
http://share.findmespot.com/shared/faces/viewspots.jsp?glId=0R3Lvoqaqx7ZtrNBJ33DRJzS9PQuYVzXy
Day 1 to Day 2 – May 29th-30th - Cape Town
This year's trip is from Cape Town, South Africa to Alexandria, Egypt with nine additional countries in between. It will take approximately 70 days and cover approximately 16,000 km. The approximate route is shown on the map below. More
---
Day 3 to Day 8 - May 31st–June 5th - Namibia: Vioolsdrif to Swakopmund
We arrived in Namibia on May 31st and immediately rode past a squatters' town that was like a mobile home park made of cardboard boxes.
More
---
Day 9 to Day 12 - June 6th–9th - Namibia: Swakopmund to Rundu
We left Swakopmund on the Atlantic coast of Namibia andheaded north along the "Skeleton Coast," named for all the shipwrecks that pepper the beach. There was heavy fog, and the road was wet and covered with salt, making it slippery.
More
---
Day 12 to Day 21 - June 9th–17th - Namibia to Botswana to Zambia
We spent the last eight days heading northeast to the Cubango River on the border of Angola, then east to Botswana, and finally ending in Livingstone, Zambia. More
---
Day 21 to Day 23 - June 17th-19th - Livingstone, Zambia to beyond Lilongwe, Malawi
We left the Chief's Island Lodge and flew back to Livingstone for a day of recreation. We rented a helicopter to see the mile-wide Victoria Falls, where the mighty Zambezi River flows into a crevasse and winds its way down some rapids that kayakers adore. More
---
Day 23 to Day 27 - June 19th–23rd - Lake Malawi to Tanzania
We left our seaside cottages where we spent two days relaxing (with only marginal Internet). More
---
Day 27 to Day 29 - June 23rd–25th - Iringa to south of Arusha, Tanzania
We headed west from the Malawi/Tanzania border. We stopped and bought bananas from this nice family: More
---
Day 29 to Day 32 - June 25th–28th - Arusha to Bwindi Imperial Forest, Uganda
I left the family behind at the lodge. They had had a transformational trip visiting the Nyurongora Crater and the Serengeti. The crater was spectacular; the Serengeti was a lot of driving and did not boast anywhere near the amount of animal life that we saw Botswana. They saw a migration of hundreds of wildebeests that was fascinating. I would have liked to have Coral and the boys spend more time with the children that we met along the road in the small villages. It would have given them an opportunity to learn what it is like to live in a subsistence environment with minimum education, with few opportunities and facing a bleak future. My sisters and I had the opportunity to spend two years in Istanbul as youngsters. It gave all four of us a profound appreciation for what we have that others do not – the enormous position of privilege to live in an extraordinary country at an extraordinary time. We realized the benefit of having an extraordinary education with remarkable and caring parents.
More
---
Motorcycle Gadgets - Tech Post
Motorcycle Hardware – What we are trying; what's working and what's not
More
---
Day 33 to Day 34 - June 29th–30th - Bwindi National Park, Uganda to Nairobi Kenya
After breakfast we attended a briefing with the Uganda Wildlife Authority who explained the rules to us:
More
---
Day 35 to Day 39 - July 1st–5th - Nairobi to Isiolo, Kenya
We arrived in Nairobi with two basic goals: first, to get a Sudan visa; second, to change tires on the bikes and do some mechanical maintenance.  We also wanted to visit the Starehe Boys Centre & School.  It is an exclusive school in Nairobi that has a relationship with Cleveland's own University School.  Several of the Starehe students have visited US, and US students have visited the Nairobi school. More
---
Day 40 to Day 44 - July 6th-10th - Isiolo, Kenya to the border of Ethiopia
On our way to Isiolo, we rode 250 kilometers in all, starting with about 130 km on nice paved roads on which we could travel 60 mph.  The remaining 100 km were deep dirt roads with patches of sharp rocks and deep sand. More
---
Day 44 to Day 48 - July 10th-14th - Addis Ababa, Ethiopia to Bahir Dar, Ethiopia
We spent four days in Addis Ababa trying to get visas into Sudan.  I went to the embassy six times, and at every visit everyone was very polite.  We felt they were doing their best, but the system is biased against Americans.  Vince, a Canadian, and Helge, a Norwegian, had no trouble getting visas.  It took Roger and I four days and an extra $500 each in fees to get ours.  We worked the process through someone at the Egyptian Embassy and through the owner of the hotel in Khartoum where we planned to stay.
More
---
Day 49 to Day 50 - July 15th–16th - Bahir Dar to Gedaref
The road to Gonder was a short one, about 180 km.  The condition of the road was excellent.  We traveled up through dark green valleys and down through rocky canyons with incredible vistas.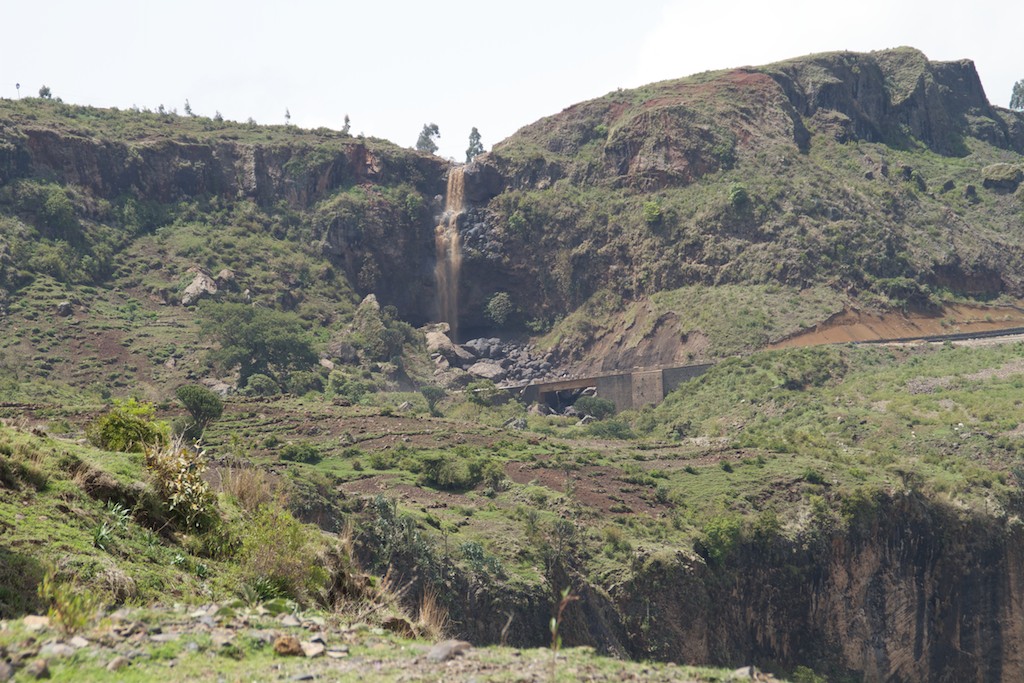 More
---
Day 51 to Day 58 - July 17th-24th - Khartoum, Sudan to Wadi Halfa, Sudan
In Khartoum, we stayed at the Acropole Hotel, a traditional English hotel managed by George and his brother; their family has owned the hotel for fifty years. They were very knowledgeable about Khartoum and helped us arrange a tour of the city. They also provided some insights on how to get to Wadi Halfa, the starting point for taking the ferry north on the Nile to Aswan, Egypt.
More
---
Day 59 to Day 64 - July 25th – 30th - Wadi Halfa, Sudan to Hurghada, Egypt
We got to the customs house around noon on the way to the ferryboat at Wadi Halfa. It was an intense body jam with sweating frenzied people carrying huge bags, pushing far harder than we're accustomed to even when traveling with German tourists! After clearing customs, we elbowed our way onto the minibus. Every now and then someone would play the "woman card" and people would back off just slightly to let a poor woman get a seat. Boarding the ferry was more of the same. We were elated upon finally departing the Wadi Halfa port. . .
More
---
Day 64 to Day 68 - July 30th-August 3rd - Hurghada, Egypt to Alexandria, Egypt
We left Hurghada early in the morning in the hopes of avoiding the impossible Cairo traffic.  We headed north along the Red Sea towards Suez.
More
---